Superior processing technology
Available for orders from trial manufacture to units
Our company makes the complete system to handle parts processing and assembly for a trial item (and so on), and we ensure the stable supply. We also deal with assembly of precision parts under strict temperature control at temperature-controlled room.

Extensive processing facilities
We have a variety of machinery, such as machining center, NC lathe, combined machine, general purpose machine, grinding machine and so on. Therefore, we can handle from small work to big work.We complete ourselves from material to processing. We are really good at thin parts of robot arms, cutting strange shapes and grinding strange shapes. The progresses of technology brings various kinds of shapes into sight.Please confer with us.

5-axis processing
Make the most use of CAD/CAM like hyper MILL.We process subtle curved surfaces.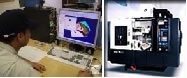 Installed of 5-surface processing machining
It is possible to process axis, plate and canning plate working of long objects. (H1600xD2000xL4000) It is possible to cut a big cam (D600xL3500) because we equip CNC dividing. Processing precision in flatness, parallelism and pitch ????

Installed turning center
We process from 400 to 1000(cm) in diameter from small lot.

General-purpose machine
We guarantee a high-precision processing by skilled engineers. We are also able to cope with small lot orders because we have technique of processing jigs by accumulated know-how.

A grinding machine
Grinding is the most important final process determing the quality of products. We are able to cope with a micron order because we put together a great variety of grinding machines. Grinding after hardening is also available.

Set-up of cutting tools
It is processing cutting to have the side of facility industry. By installing combined machine, it finishes one chucking from oblique processing to lots of operation. We realize multiple processing without cracks in quick delivery. We make varieties of cutting holder such as KM, MT, BT and NT.
BT30 machining center/ spindle assembly
Spindle assembly from 5000 to 1500 rpm/ min has actual achievement of 3000 units. The contents of spacer, bearing, and assembly are micron orders. We have abundant know-how of spindle assembly. We realize drastic cost down. Our system, the same time production show characteristics for the same time production, quick shipping system (24h factory operation), parts procurement in quick delivery and customers' price requests. By FMA system and installed system machine, jig barret has 80 sides, and we can immediately respond to customers' requests such as various kind, small amounts, variable quantities and variant. And we have ability to ship a variety of items at the same time in quick delivery.

OEM tooling process
We come to quality assurance system well prepared for a large variety of tool folders of NC lathe double-sided types. We take well prepared quality assurance system stance from upstream(a variety of tool folders of double-sided types for NC lathe) to downstream(heat treatment or grinding). We offer cutting tools for BT, HSK, GM and so on. We also offer spindle tools for your company private use.

TEKNIA Co., Ltd.
Head office, Nagoya factory
3-459 Ematsu, Nakagawa-ku,
Nagoya city, Aichi, Japan
TEL.+81-52-303-3347
FAX.+81-52-303-3354
Aisai factory
5-1 Rokujutsubo, Nishiho-cho,
Aisai city, Aichi, Japan
TEL.+81-567-28-9051
FAX.+81-567-28-9050
E-mail info@teknia.co.jp